Those looking to try something unique instead of the traditional Thanksgiving turkey might consider another white-meat dish: Lionfish.  Lionfish have rapidly populated Florida waters in the last 25 years with an appetite that threatens the population of many local species. And one state agency has a message to residents: bite back.
The Florida Fish and Wildlife Commission (FWC) has a Lionfish team traveling the state, teaching anyone who'll listen how to catch, clean and eat the invasive species, which is chomping its way through a vast number of Florida's commercial and recreational species, from shrimp to grouper.
"It's the worst marine invasion to date," said Hanna Garland of the agency's Lionfish team.
Because Lionfish are fast breeders with no known predators, the FWC is encouraging anglers to harvest as many as they can, and locals to ask restaurants and grocery stores to stock them.
Garland says Lionfish fillets are mild, light and flakey and restaurant chefs have been coming up with all kinds of ways to serve up the invader.  Her favorite ways to eat Lionfish are in ceviche or fried whole.  "You can eat the fins like a chip," she said.  She also said they make excellent fish tacos.
Garland and Lionfish team member Kali Spurgin were at Assumption Catholic School in St. Nicholas last week for the school's annual health fair to teach elementary-aged students about Lionfish.
Laddy Monahan, parent of two children at the school, helped put the fair together.  "We were looking for ways to teach a positive lesson to kids," she said.  "We didn't just want to say 'Don't eat junk food, don't do this, don't do that.'  We wanted to focus on celebrating cooking and eating real food. Catching and cleaning your own fish gets you outdoors and moving rather than sitting in front of a screen."
Garland's presentation to high schools and colleges involves dissecting the fish in order to teach about the scientific method.
"We teach how to record data and what types of research and analysis can be done," she said.  At the elementary school level, they dissect the stomach contents to show kids the wide variety of local fish Lionfish are preying on.
"They are gluttons," said Monahan, who learned about Lionfish from a fishing guide during family fishing trips. "They eat way more species than other fish eat."
Lionfish eat over 70 marine fish and invertebrate species, including yellowtail snapper, flounder, grouper, shrimp and spiny lobsters, an FWC representative said in a presentation to members of the Jacksonville Waterways Commission in October 2015.  By eating fish and shrimp in the juvenile stage, they have the potential to wipe out an entire species.
Lionfish are native to the south Pacific, the Indian Ocean, and the Red Sea.  They first appeared in Dania Beach, off of Florida's Atlantic coast, in 1985, according to the FWC, possibly from the aquarium trade.  They then spread north through the Carolinas, south to the Bahamas, and around the Florida peninsula to the Gulf Coast.
They live on offshore reefs and reproduce quickly. Females can release up to 30,000 eggs at a time and can spawn every four days in warmer climates.  They have 18 venomous spines splayed out in different directions which deters predators, but local divers report they are easy to spear because they don't flee.  Though divers have to be careful not to get poked handling the fish, the venom doesn't affect the meat.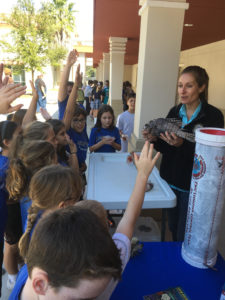 To encourage Lionfish harvest, the agency limits the license requirements and there is no size or bag limit.  For an angler using a pole spear, hand-held net or specific Lionfish equipment, no license is required, said Amanda Nalley, Marine Fisheries spokesperson for the FWC.  Anglers using a hook-and-line or spear gun do need a license, as they would anyway.  Divers or commercial fishermen who want to supply Lionfish to stores or restaurants need an FWC Saltwater Products license, which costs $50 dollars but also covers the recreational fishing license.
The agency recently hosted its first contest, which ran from May 14 to September 30, to see who could harvest the most Lionfish.  The winner, David Garrett of Daytona Beach, brought in 3,300 and will be awarded a lifetime saltwater fishing license, reported the Daytona Beach News Journal.  About 16,600 fish were removed during the contest, although Garland says the total number in Florida waters is unknown.
Nalley said in addition to speaking to schools, the FWC can speak to fishing clubs, sponsor Lionfish tournaments, and provide training to divers at dive shops.  It also sponsors an adopt-a-reef program.
In northeast Florida, Whole Foods and the San Jose location for Fisherman's Dock carry Lionfish.  Whole Foods (10601 San Jose Blvd.) obtains it from local charter boats, and is usually available for $9.99 per pound.  Fisherman's Dock (11610 San Jose Blvd.) just began carrying it last week and is sourcing it from a local diver.  A spokesperson for Publix grocery stores said it is available by special request, but it not stocked.
For more information on catching and handling Lionfish, see the FWC's brochure.  To book a presentation, ask about licensing or about Lionfish in general, send an email to lionfish@myfwc.com or call 850/363.7670.
Update, 11/24/16, 1:12 p.m.: Amanda Nalley said in an email that some of the fins have venomous spines in them.  She said the pectoral and tail fins do not have spines in them and that stores don't always remove the venomous spines.  For those who've had no training about Lionfish, it might be best not to eat the fins.