The National Hurricane Center reported a "monster" hurricane in late September that was headed toward north Florida.  It plowed over Haiti, Cuba and the Bahamas with 160 mph winds, leaving 1,000 dead. Florida Gov. Rick Scott declared a State of Emergency for all of the state's counties, many of which issued mandatory evacuation orders.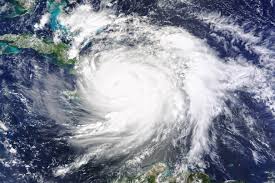 In Jacksonville, FL, the state's largest city geographically with 1.57 million area residents, Mayor Lenny Curry issued an evacuation order and dire safety warnings.  But when asked if it was a mandatory order, meaning residents must leave, he wouldn't say.
"Look that's a semantic," he said, when asked repeatedly during press conferences for clarification.
But in a state where mandatory and voluntary orders can signal different threat levels to lives and property, it's a semantic that's important to residents making the decision whether or not to evacuate, which can be time-consuming and expensive.
It's also a "semantic" used by other counties and by the state of Florida. Duval County, of which Jacksonville is part, issued a "voluntary" order just a month earlier during Hurricane Hermine.
With lives at stake, why the cagey language from the mayor and why the refusal to explain it?
Countdown
Wednesday, October 5, two days before the storm, Gov. Scott opened the 6:00 p.m. press conference in Jacksonville by listing voluntary and mandatory evacuation orders by county.  He warned citizens to be aware traffic would increase "as we go from voluntary to mandatory orders."
A later press release from the governor listed evacuation orders, stating "voluntary orders have begun" in Duval County.
The state's official emergency website, www.floridadisaster.org, listed Duval's order as "voluntary."
The City of Jacksonville's press releases and social media sites "urged" or "strongly encouraged" residents to leave, language associated with a voluntary order.
The Jacksonville Sheriff's Office posted on its Facebook page and Twitter account that the order "mandatory."
Some members of the press said the order was "mandatory."
Thursday, October 6, one day before the storm, Mayor Curry held a press conference at 8:30 a.m. and is asked again has to define the evacuation order.  "We need to stop the nonsense of arguing" over word choice, he said. "I am being very clear as I was yesterday.  If you are in Zone A or B, call it what you want. This is a direct order."  He also said citizens in those zones would not have access to public services.
Out of all 12 east coast Florida counties, Duval County was the only one not to specify its order.
The skies darkened. Electricity flickered. The wind blew sideways in a constant howl. And Curry, mayor of the state's largest city, drove from his city hall office 16 miles east to the beach during the evacuation to personally ask people he encountered to leave.
Asked later why he wouldn't make the order mandatory, city public information officer Tia Ford said, "Well, he was leading up to it."
The storm came, a "mandatory" order never did, and a last-minute shift east plus a weakening from a Category 4 to a Category 3 kept Hurricane Matthew from being the catastrophic event officials had warned of.
But had Matthew's ferocity met projections, or been worse, it would have found a city full of residents and agencies with differing definitions of the evacuation order and of the evacuation zones.
To Leave or Not to Leave
Jason Arteaga, owner of Beachside Seafood on A1A in Jacksonville Beach,  said it was obvious they needed to evacuate.  "We were not unclear about it," he said.  But the decision to close his business and leave, he said, came down to  "a combination of things."
At first, his employees didn't want to evacuate because the order wasn't mandatory.  Then, after looking at the National Hurricane Center's website, he said they realized, "This is real."
Arteaga remembers hearing the mayor on a news broadcast say the word mandatory was a "semantic," but when the fire station next door was evacuated and the city announced bridges to the mainland would close during high winds, it finalized his decision.
Other business owners thought the order was mandatory, including James Morrow, a manager at Jacksonville Beach restaurant Eleven South, and Amie Keslar, owner of Front Porch Pickings, a fresh vegetable delivery service.
Curry's evacuation orders eventually included  Zones A, B and C, which encompassed 456,000 people, many of them far inland from the coast.  And many didn't know that the city had updated its evacuations zones, so that Zone A, which has historically been only the beaches, now includes riverfront property as far as 20 miles inland.
Most of the residents interviewed on the Westside, which has a combination of zones, didn't know their zone or didn't know the zones had changed, despite city officials publishing the zone maps repeatedly.
"The graphics were poor on the Evacuation Zone map," said Westside resident Allen Skinner.  "And then everyone tried to get on the city site at the same time which caused it to run slow."
Both the city website and its disaster preparedness app, JaxReady, were not working at times due to the volume.
In the city's older neighborhoods inland along the St. Johns River, many residents were unaware that everyone on the river or its tributaries is now in the same zone as the beach.  And many relied on local knowledge of what areas flood and what don't to make a decision.
Longtime resident Marcy Moody, who lives on the river in Avondale, keeps an evacuation zone map on her refrigerator.  But she didn't realize it was an older map.  Ann Gibbs, whose family has lived on the river in Ortega for years, made her decision based on years of riding out storms.  "I guess I was thinking Zone A meant the beaches," she said, a common refrain, although the county recently included all riverfront in Zone A.
"Regardless of the zone, a lot of people were going to stay because they think they were far enough inland," said Allen Skinner, who did evacuate, but says many of his neighbors didn't.
There's no official estimate of the number of people who evacuated. But all the residents interviewed agree on one thing:  nowhere near the 456,000 residents under Curry's order actually left.
What Difference Does It Make?
Why wouldn't Mayor Curry make the order mandatory, like Nassau County to the north, and St. Johns County to the south?
Marsha Oliver, Director of Public Affairs for the city, said later in an email, "Mayor Curry did not specify any differences [sic] between mandatory or voluntary.  He advised at the time he was not at all opting the use of specific word choices or semantics."
Pressed further, she emailed, "There was no difference to him.  It was simply and strongly an evacuation order."
But there is a difference between a voluntary and a mandatory order, according to the state's official disaster preparedness agency, the Florida Division of Emergency Management.
"A voluntary order is a strong recommendation to evacuate.  A mandatory order means there is no guarantee emergency services will be able to get to you – you are on your own," said Alberto Moscoso, Communications Director. "But how they are issued and in what manner falls on the counties."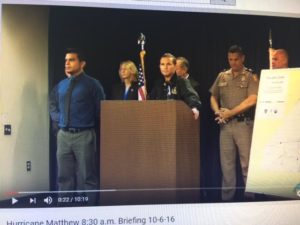 St. Johns County was direct when asked about its mandatory order.
"All evacuation orders are mandatory," said Linda Stroughton, Director of Emergency Management. "There is no such thing as a 'voluntary' evacuation order in St. Johns County.  We either say, 'If you are able to leave, do so,' or we issue an evacuation order."
Stoughton says the process is stipulated in the county Comprehensive Emergency Management Plan and each county has its own plan.  She said St. Johns County issued a formal evacuation order and two press releases calling the order "mandatory" (here and here).
In contrast, Duval County issued a verbal order only and used language consistent with a voluntary order, while refusing to define it.
Both Stoughton and Mayor Curry said the counties wouldn't prosecute individuals who choose to stay, although Stoughton said it is a violation of law.
The city of Jacksonville and Duval County are consolidated for the purposes of emergency management, and served by a county emergency manager operating under an emergency plan approved by City Council, according to the city website and the plan itself.
The section of the plan (p.114) describing an evacuation order does not use the words "mandatory" or "voluntary," which may be why Mayor Curry couldn't use the words, though no one has said so.  But during Hurricane Hermine one month earlier, Duval County's emergency manager, Steve Woodard, did use the word saying there were "no mandatory evacuation orders" in place.
It is also not clear why the mayor was the focal point during Hurricane Matthew, as opposed to the county emergency manager, as during past hurricanes.
Jacksonville Sheriff's Office spokesperson Christian Hancock said, "We don't like the word 'mandatory,'" when asked about the order.  When it was pointed out "mandatory" was used on the city social media sites, he said he'd have to check on it.
"Time to have that conversation"
City and state officials were very visible before, during and after the storm, in press conferences and on social media channels.  They provided constant updates from the National Weather Service and urged citizens to take Hurricane Matthew seriously, to prepare, and to seek safety.
Yet it's clear when it came to the evacuation order, both officials and residents had differing impressions of what the order meant.
And the city still hasn't explained why it used language inconsistent with the state's definition, with other counties and with past protocol.
In a region that hasn't seen a direct hurricane hit in 52 years, residents might be complacent.  In a county that's changed its evacuation zones, that message might not have gotten to residents.  For officials using different language than counties around them and even the state, the confusion could cost lives.
As for the mayor, he had one more thing to say about the order.  He posted two photos on Twitter of homes with fallen trees on them, and in one, a large branch had punched straight down through the roof to the ground.
Zone under evacuation order pic.twitter.com/yQc5gPa8jc

— Lenny Curry (@lennycurry) October 9, 2016
Curry's comment: "Zone under evacuation order."
Asked about the confusion over evacuation orders, Arteaga said, "Maybe it's time we have that conversation,"