The Women's March on Washington Saturday was not a women's march on Washington.  Turns out, it was a people's march, and it was everywhere.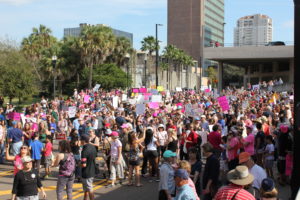 It was in Cape Town, Sydney, Singapore, Helsinki.  It was in London, Tokoyo, Nairobi, Rio de Janero.  There were marches on all seven continents, according to Associated Press reports.   Early estimates from crowd scientists are putting the number of marchers close to 3 million.
In D.C., there were 500,000.  In Los Angeles, 600,000, according to police estimates. In Chicago, 250,000.  In St. Petersburg, Florida, 20,000.
WHO MARCHED AND WHY?
In Jacksonville, they expected 250 people, according to organizer Billie Bussard.  Instead, between 2,000 and 3,000 showed up, according to a Times-Union estimate.
"I was shocked," said Bussard.  "It just took on a life of its own."
As photos show, the crowd was diverse; there were suburbanites, urbanites, families and hippies.  There were grandparents in wheelchairs, babies in strollers, and kids on scooters.
Most of the chants were anti-hate slogans, like "Hate Won't Make America Great," and "Love Trumps Hate."  There was a variety of signs but most seemed to be anti-hate and women's rights slogans.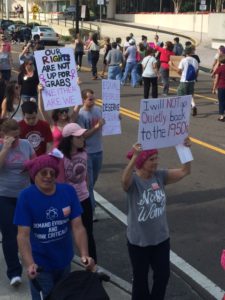 A large percentage of the crowd was men.
James Taylor attended to show support for women around the world who are struggling for equality.
"Women are not backing down to a reemergence of misogyny," said Taylor later by email.
Taylor, who is the coordinator of the Environmental Center at the University of North Florida, also said he wanted "to show the world that those who support environmental protection, equality and labor rights are not backing down as a president who received 3 million fewer votes [than his opponent] takes office."
Misogyny also was a factor for Bussard.  "So few Republicans stepped up in response to Trump's rhetoric to say 'Your language is inappropriate,'" she said.
"Their silence spoke volumes."
Bussard thinks the marches outside of the United States were also in response to Trump's statements.
"He used irresponsible words that could get us into war," she said.
FROM THE GRAVEYARD TO THE COURTYARD
The demonstration began in a graveyard and was originally supposed to end at the Chamber of Commerce in downtown Jacksonville.
The four organizers – Marianna Smith, Bobbie Nord, Lark Wills and Bussard – chose the chamber because it represents the business community.  They met ahead of time with chamber CEO Daniel Davis to assure him they were not protesting the chamber, but rather encouraging business leaders to support politicians who support diversity and inclusion.  She said the meeting was amicable.  (Davis could not be reached for comment as of press time.)
First, they gathered at Evergreen Cemetery to honor Mary Nolan, a Springfield grandmother who was the oldest suffragette in the nation to be arrested in Washington for demonstrating for the 19th Amendment in 1917.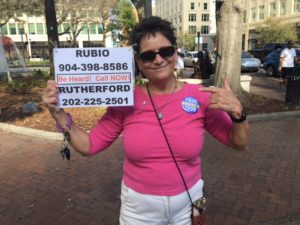 Bussard planned "a quiet little ceremony" at the grave site prior to the march, but 700 citizens showed up.
They then met at The Landing, intending to march one quarter of a mile east to the chamber. But so many showed up, Independent Drive filled between The Landing and Main Street Bridge.
Instead, they marched north on Laura Street to Hemming Plaza in front of City Hall.
When Hemming Plaza filled, they marched west to the court house, although some stayed in Hemming Plaza.  At the court house, there were chants and a speaker encouraged the crowd to attend upcoming city council meetings and support passage of the Human Rights Ordinance.
On the court house lawn and at Hemming Plaza, kids played and the event took on a festival-like atmosphere, not unlike any other downtown event.  It dispersed peacefully, as did marches around the world, according to press reports.
COMMON GROUND?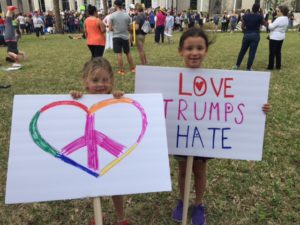 It took less than 24 hours for dissing and divisiveness to appear on social media and from some officials in response to the march.  But in the rush to dismiss, areas of common ground might have been overlooked.
One couple was overheard discussing the hearings for Pres. Trump's cabinet picks.
"They gave all these political non-answers," said one woman.  "That's the thing we are all so sick of."   Trump's appeal was often credited to the perception he "tells it like it is" and an anti-career politician feeling among his supporters.
Also, many signs and chants Saturday referenced power of the people, a theme heard from Trump supporters that the president himself talked about in his inaugural address.
Some marchers Saturday sang patriotic songs and held signs calling for unity, such as "United We Stand, Divided We Fall," and "We Are One."   Trump supporters have also issued calls for unity.
Pres. Trump's campaign was credited with tapping voices that had been unheard by politicians, pollsters and the media.  But Saturday's march, whose global reach stunned even its supporters, also appears to have tapped a voice.
"[Y]ou rarely see a group of that size demonstrating in Jacksonville," said Taylor, who says he's been active in community action for years.
"I think it showed a pent-up need for leadership in this community," said Bussard.
Update: 1/26/17.  Several follow-up meetings have been planned to share stories about the marches and make future plans.  Here's a list:  Saturday, 1/28/17, Main Library, 10:30 a.m.,  Wednesday, 2/1/17, Jesse Ball duPont Center, 6:00 p.m., Thursday, 2/2/17, Space Gallery, 6:00 p.m.,  Friday, 2/3/17, Main Library, 3:30 p.m..  Call Yvette Hyater-Adams at 904/372.3771 or email her at yvette@usdac.us for more information.  Also see the U.S. Department of Arts and Culture's website at www.usdac.us.