The citrus harvest in Florida gets underway in February, and John Abercrombie's fruit at his 5 acre Southside home is ready to be picked.   Abercrombie has Ruby Red and Pink Grapefruit, Satsuma and Calamondin Oranges, Limequats (a cross between limes and kumquats) and others.  "I've got Ponderosa Lemons as big as your head," he said.
The problem is his hobby grove has gotten too big for just family and friends to harvest, so he called on a local food bank for help.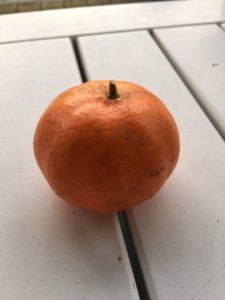 Feeding Northeast Florida has rounded up volunteers for the last five years to pick the trees for homeowners who have more citrus than they can use or who are no longer able to pick their own trees.  The fruit is then donated for immediate use to one of 150 community partners, like Beaches Emergency Assistance Ministry, the Salvation Army, and the Sulzbacher homeless center.
Last Saturday morning, it sent out almost 400 volunteers who collected 30,000 pounds of citrus from 100 homes and a small grove.
"[T]he vitamin C will provide a much needed immunity boost during cold/flu season for thousands of needy individuals and families," said Sarah Hall by email, the group's philanthropy and marketing manager.
Hall said north Florida doesn't have the big commercial groves like in central and south Florida with professional picking operations.  Instead, there are primarily backyard trees.
Abercrombie started his grove from scratch and enjoys working it in his time off as a landscaper.  Every year, he gives large fruit baskets to his kids' teachers at Christmas and to friends and family.  One neighbor makes jam from the Calamondins, but his favorite way to use the fruit is to juice it and freeze it into ice cubes to drop in iced tea.
"It's a Southern thing," said the native Jacksonville resident.
Other homeowners are simply not able to harvest their trees any longer.  Cassandra Amin and a group of work friends were assigned to pick the mature trees at the Chet's Creek home of an elderly woman who's now on a walker.  In the past, the homeowner and her husband did their own picking and donated the fruit to a shelter.
This year, five volunteers picked 101 bags of fruit from three mature trees.  And they made a personal connection with the homeowner.
"We wanted a picture with her, so she said to wait until she got her hair combed.  Then we coaxed her out of the house," said Amin.
Amin's group signed up as volunteers as a chance to help the community and get their kids out helping.  "This was just dear to our hearts.  It made all of us happy," she said.
Hall said in the past they've had to turn away homeowners because they didn't have enough volunteers.  But for the last two years, they've worked harder to get the word out and increased their social media marketing.  They're hoping to add more trees next year.
Eight carloads of volunteers showed up at Abercrombie's property, and they picked 198 bags.  He says one year he got a letter after the harvest saying his citrus had fed 2,300 people.
"It's nice seeing that," he said. "Why let it go to waste?"
Feeding Northeast Florida was founded in 2014 and serves eight area counties.  It estimates 281,000 people need food assistance, including 80,000 children.  To get involved in the citrus harvest, or the group's regular food pantry stocking, go to their website, www.FeedingNEFL.org to sign up.