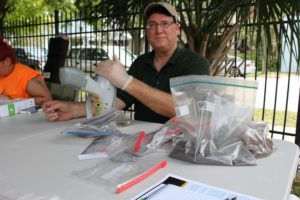 Two residential soil samples registered high for lead in preliminary tests done Saturday, April 29, at a community workshop in Jacksonville's Eastside neighborhood.  The free tests were offered at the second annual Go Green Soil Shop sponsored by the Eastside Environmental Council, a citizen's group.  Residents brought soil from their yards to see if metals like lead and arsenic are present in levels above those recommended by the Florida Department of Environmental Protection (DEP).
The geologist performing the tests cautioned that the results aren't verified until a state certified lab has performed more thorough testing.
"This is just a field screening," said Rick McCann, professional geologist and senior project manager with Jacksonville-based LG2 Environmental Solutions, Inc. "I'll get preliminary results after which I'll decide which need to be pursued further."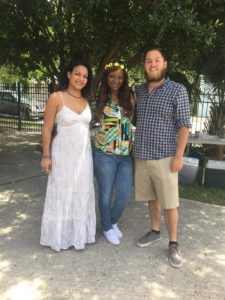 Schools, churches and homes have sat amidst heavy industry in postal code 32206 since before 1900 and long before proper handling of industrial chemicals was understood.  Today, federal, state and county agencies are involved in the identification and clean-up of pollutants in the neighborhood, including lead from incinerated ash from the city's former municipal waste sites.
"There's a lot of contamination in the urban core," said Teena Anderson, project manager with the council. "That's why we promote raised beds for gardening."  The council was formed in 2004 by residents concerned about the higher-than-average health problems in the neighborhood.
Anderson said there are no grocery stores or markets for fresh fruits and vegetables in the neighborhood, so she helps families and schools build and maintain their own gardens.  Last year at Matthew Gilbert Middle School, for example, students grew and took home watermelons, which she said thrilled parents.
There are various remedies for contaminated soil, such as removing it or capping it with clean soil, according to the EPA's website.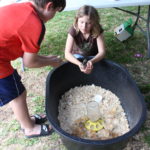 McCann said exposure to metals like lead and arsenic in soil happens with direct contact, like digging up the soil for gardening.
He performed about 30 tests on Saturday, which is about half the number of requests as last year.  Not all were from the Eastside neighborhood.  Some came from nearby neighborhoods like Springfield.
The City of Jacksonville operated solid waste incinerators from around 1900 to 1960 and disposed of the ash on public and private properties nearby.  Residents could even pick up ash to use as fill in yards.  Today there are eight former incinerator sites around the city being cleaned up at a price tag of $100 million, paid by the city.  Four of the sites are managed by the EPA and four by the Florida Department of Environmental Protection.
McCann is in the process of reviewing the results from Saturday's screening, which includes ruling out "a false positive."  For example, there could be a solid mass of metal in a sample which registers high in the screening, but is not indicative of overall contamination.  He'll report any findings to the Duval County Health Department that require further action.  The department will contact the residents whose soil needs further testing, confirmed Scott Turner, Director of Environmental Health at Duval County's health department, by email.  Any residents who missed Saturday's event but would still like their soil tested could contact a private firm for testing, he said.