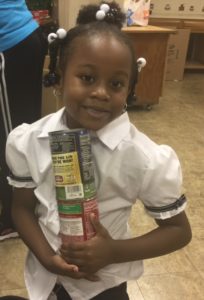 One hundred hot suppers delivered every night.  Grocery bags stocked with cleaning supplies, personal items or canned goods.  Cases and cases of bottled water.  One Springfield church sprang into action after Hurricane Irma to fill the stomachs and refrigerators of residents impacted by Hurricane Irma. In addition to their own parishioners, they've adopted a flooded-out neighborhood whose residents say they've been "forgotten" by the city and aid agencies.
But it's more that spaghetti dinners and bottles of bleach that the church is providing, said the pastor.
"It's love," said Rev. R.L. Gundy of Mt. Sinai Missionary Baptist Church in Springfield.  "We want them to feel loved and cared for."
The "forgotten" neighborhood is Washington Heights, along the Ribault River on Jacksonville's north side. Homes and cars on Ken Knight Drive flooded when the river overflowed during the hurricane and many were left with standing water as the river was slow to recede.  Residents have said the city and aid agencies were slow to respond, leaving some sleeping in wet homes with no power, no food and no trash pick up, long after clean up in other neighborhoods was well underway.
Neighbors rallied to help each other but also reached out on social media.  Volunteers from outside the community began to show up with water, diapers, and cleaning supplies. The church became the clearing point for donations and food, even though it's in a different part of town and typically serves a different congregation.
"We're not there to preach," said Gundy.  "We're there to help.  If they want us to pray with them, we will."
Residents from all over Jacksonville responded to the media reports and Facebook posts about the plight of Washington Heights, and now donated goods line the hallway at the church.
Gundy's cell phone rang all afternoon at the church hall where he was overseeing the operation, with calls from other pastors, volunteers, and lawyers offering free aid.  But he does not want to be the focus of any media regarding the church's outreach.  Instead, he wants the focus on the folks impacted by the hurricane.
"I don't want to speak for them," he said.  "I want the media to ask them what they need."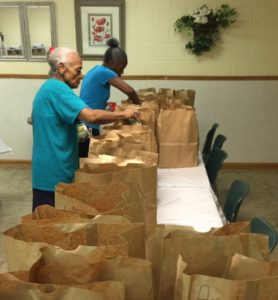 Nine conference tables have been set up in the hall to sort and repackage donated items.  There's a section for non-perishables, like rice, soup and spaghetti sauce for those who lost their refrigerator contents during the power outage after the storm.  There's a section for personal items, like tooth brushes, deodorant and shampoo.  Other tables hold cleaning supplies; bleach, disposable gloves, trash bags and scrub brushes.
One whole room is piled with donated clothes that volunteers are in the process of sorting.
Rev. Gundy said the following items are needed:
Bottled Water.
Paper goods, like paper towels and toilet paper.
Canned items.
A large outdoor storage unit that can be placed in the lot behind the church to hold all the donated items.
No more clothing is needed at this time.
A hot meal is taken to residents in Washington Heights every afternoon at 5 p.m. by volunteers.   Items are sorted and repackaged for distribution around 4 p.m.. When the immediate needs are met in Washington Heights and aid agencies step in, the church's outreach will go on to other pockets of under-served storm victims.
To help, call the church for details at 904.354.7249 or Rev. Gundy at 354-7249.  Mt. Sinai is located at 2036 Silver St. in Springfield.
In Avondale, goods may be dropped off at Ronan School of Music, Monday – Friday, 3 – 7 p.m., 1763 Geraldine Dr., Jacksonville, FL 32205.
To help directly with the Washington Heights area, see the Facebook page, "Ken Knight Drive Community."